When only the best will do!
When only the best will do!
Here at SureAqua, we strive to provide the very best product and aim to exceed all regulated laws and guidelines to protect your safety. We focus on bringing the very best technology to you at an affordable price.
The SureAqua's product range is manufactured under strict supervision and full compliance to all the government's strict regulations and standards pertaining to the Food and Health industry.
Each and every single product that is produced by Sure Aqua is individually tested to assure its quality.
You can have your mind at rest, knowing the product you are about to use from SureAqua has passed stringent inspections and tests.
All the claims being made by SureAqua have been verified by an independent, internationally recognized laboratory to international standards.
The international recognized organization, NATA, has provided accreditation for our range of products
Listed here are the standards and guidelines use to manufacture and test out products;
World Health Organization standards
US Environmental Protection Agency
US Centre of Disease and Control
Full NSF P248 'Military Operations Microbiological Water Purifiers U.S. Army
environmental Protection Agency -US
DIN ES ISO 9001 Quality Management Systems
DIN EN ISO 46001 Quality Standard for Manufacture of Medical Devices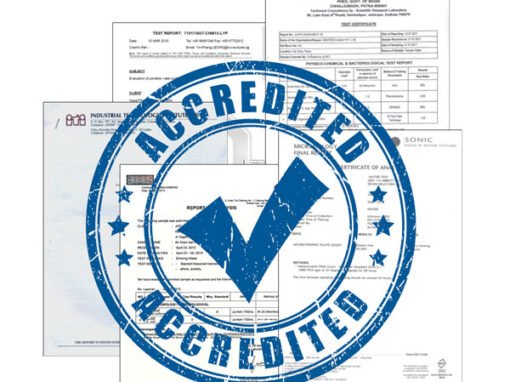 Sure Aqua Testing and Accredation
Download our full report on all our Test Results and Accredatations