"When the risk
is not worth it!"
THE SURVIVAL WATER BOTTLE
Clean drinking water is vital for maintaining optimum health, so when you travel you know that maintaining a constant source of safe drinking water is a priority.  It's of the utmost importance to ensure you are drinking bacteria and virus-free water through SureAqua's Survival Water Bottle.  Our Water Filter Bottle should be consider as a survival water filtration bottle lifesaver!
You may already know that over 40% of travelers in third world countries and emerging nations experience some kind of water-related sickness as a result of poor water quality, but did you know many Western countries also suffer from contaminated water systems?
Did you know that bottled water you can purchase from shops in many countries including can contain potentially dangerous levels of bacteria and viruses – or that the production and disposal of bottled water is having a major, destructive, environmental impact?  It is economical, environmentally friendly, and totally safe. Sure Aqua's water filter bottle removes 99.9999% of bacteria that make you ill!
SureAqua Survival Water Filtration Bottle is an essential personal safety product whether you are traveling overseas, backpacking, hiking, or camping, or kept in reserve at home in case of natural or man-made disaster or contamination to your water treatment systems.
The Survival Water Filter Bottle utilizes the proven ultrafiltration membrane technology so you can be assured that Sure Aqua products are of the very highest grade.
Fill your Survival Water Bottle from any freshwater supply, and you will have safe drinking water on the go anywhere, anytime!
Independent testing of the Survival Water Filtration Bottle shows effective removal 99.9999% of waterborne bacteria and 99.99% of waterborne viruses including; contaminants such as E-coli, Staphylococcus, Cryptosporidium, and Giardia.
Survival Bottle use chemical-free, ultrafiltration membrane technology of 0.01 microns, with no contraindications for use. Safe for everyone!
Survival Water Bottle filters to 0.01 micron. which exceeds the standard set by the USA Centre for Disease Control and Prevention by a factor of 50, for effective removal of Giardia and Cryptosporidium.
The Survival Water Bottle is simple and quick to use. Fill the bottle with water, place the lid on and drink. Reusable up to 1,000 liters (10,566 gallons) slashing the environmental and personal financial impact of bottled water.
USED IN THE HARSHEST OF ENVIRONMENTS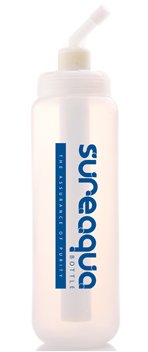 The Survival Water Bottle has been designed and manufactured to Food and Health Government regulations. The Survival Water Filter Bottle is designed to meet the following requirements.
Removes Viruses, Bacteria, Giardia, and Cryptosporidium
Does not introduce any bad taste
Chemical Free – Safe for All
Be ready for immediate use, giving immediate results
Does not risk anyone's health
Exceed U.S. Centre for Disease Control guidelines
Exceed U.S. Food and Drug Associations regulations
Exceed World Health Organizations Guidelines
Be very portable
Be robust
Be cost-effective
Be environmentally friendly
SURE AQUA SURVIVAL WATER BOTTLE OFFERS
No chemical additives – No chlorine No iodine
Filtration is via the microporous membrane, safe for all the family to use and use
No waiting time for drip or chemical interaction
Filters out bacteria to 0.01 micron including Giardia and Cryptosporidium,
i.e. removal of 99.9999% of bacteria
Filters out viruses to 0.01 micron    i.e., removal of 99.99% of viruses
Removes parasites, cysts, oocysts, and spores
Extremely low per litre cost – beats bottled water 1000:1 and similar products 12:1
Filters up to 1,000 liters (264 gallons) and is completely re-usable
Can be re-used up to 10 years – provided Operating Instruction are adhered
Durable for Travel, Camping, Disaster Relief
Physically strong and robust – Used by the Military
No power or batteries required
Scientifically Accredited
Tested and passed by laboratories around the world
SURE AQUA WATER FILTER BOTTLE IMAGES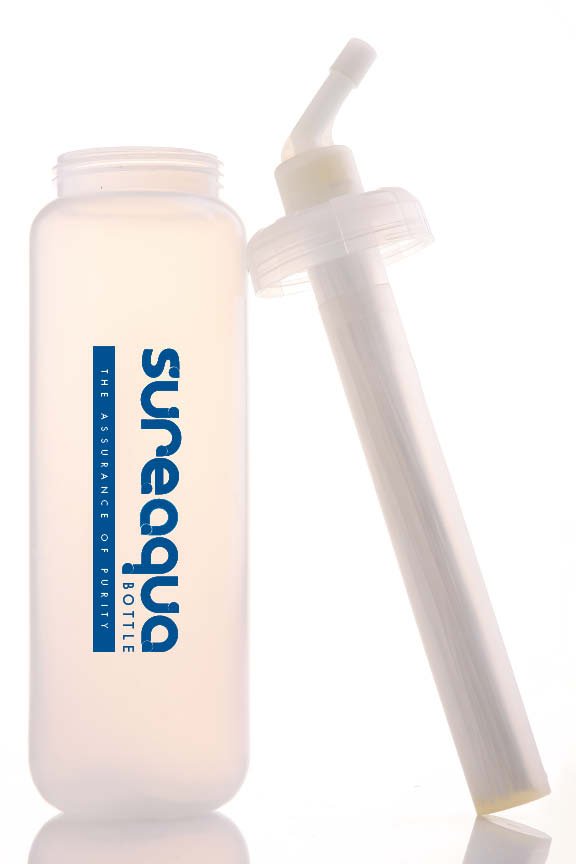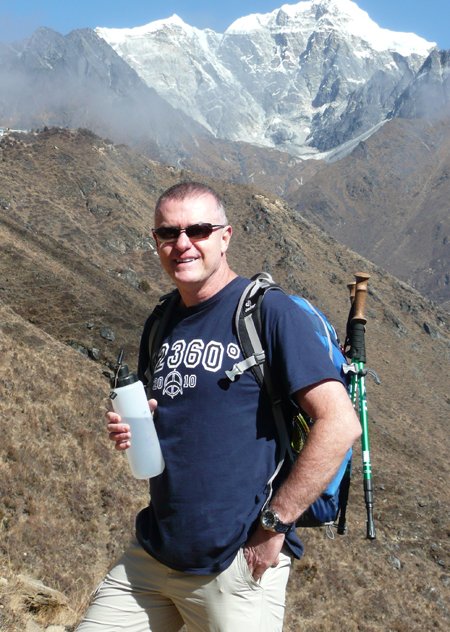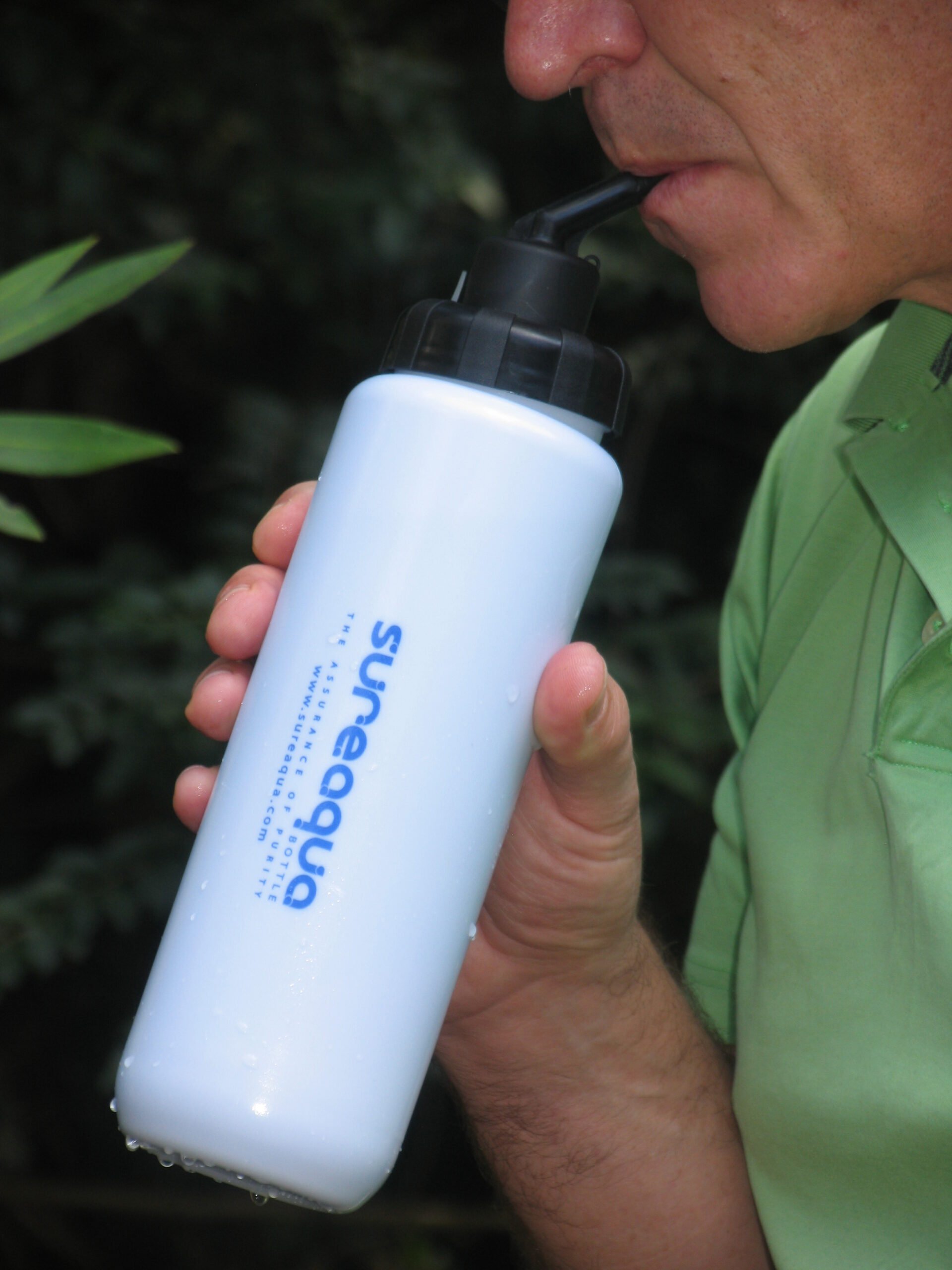 SURVIVAL WATER FILTRATION BOTTLE SPECIFICATION
Technical Specifications
Materials in contact with filtered water used in Survival Water Bottle are safe for water filtration and are B.P.A. and B.P.S. free.
Physical Construction
Height:                            298 mm/11.7 in
Diameter:                       80 mm/3.15 in
Dry Weight:                    220 grams/0.48 lbs.
Water Filter
Bottle Capacity:      1 litre/0.264 gallons
Operational Performance 
Filtering Capacity:             Up to 1,000 litres (264 gallons)
Flow Rate:                          0.5 liter/min (0.13 gallons/min)
Standard:                            US EPA & WHO
Shelf Life
Survival Bottle 10 years when not been in use
Survival Bottle 5 years after it has been first used
Operating & Storage Temperature
Operating Temperatures:                 0°C to 45°C
32°F to 130°F
Storage Temperatures:                   0°C to 55°C
32°F to 150°F
Maximum Operating Pressure:    0.3 Bar
Microbiological Filtration Efficacy
Bacteria retention:   up to 99.9999% (Log 6)
Virus retention:          up to 99.99% (Log 4)
Cysts reduction:        up to 99.99% (Log 4)
Ultra Filtration Membrane
Chemical composition:      Polyethersulfone Polymer
Wall thickness:                         150 µm ± 30 µm
Inner diameter:                        700 µm ± 50 µm
Molecular Weight Cut Off:  70KD +/- 20KD
(dextran, 90%, 0 bar)