It's Vital to Know Which Water Filters Are the Safest
While domestic tap water in most Western countries is regarded as of a reasonable standard, there have been several incidents from Miami to London, to Sydney, and back to the U.S.A. when drinking water filters and treatment went horribly wrong and contaminants entered the water treatment systems, requiring residents to boil drinking water, and resulting in illness for many.
Water filters in the home are essential to safeguard the health and cleanse water of chlorine and stray contamination. However, it is essential when camping or hiking, or traveling to many developing nations that it's essential to carry the best drinking water filter possible.
How Do You Know Which Personal Water Filter Is The Best?
For starters, you want a water filtration system that removes bacteria, e-coli, pseudomonas, staphylococcus, total coliforms, and parasites. You also want a light-weight and compact portable water filtration system. The Sure Aqua products more than meet these needs.
Spectrum
The graph below shows the size of the molecules when we look at water characteristics.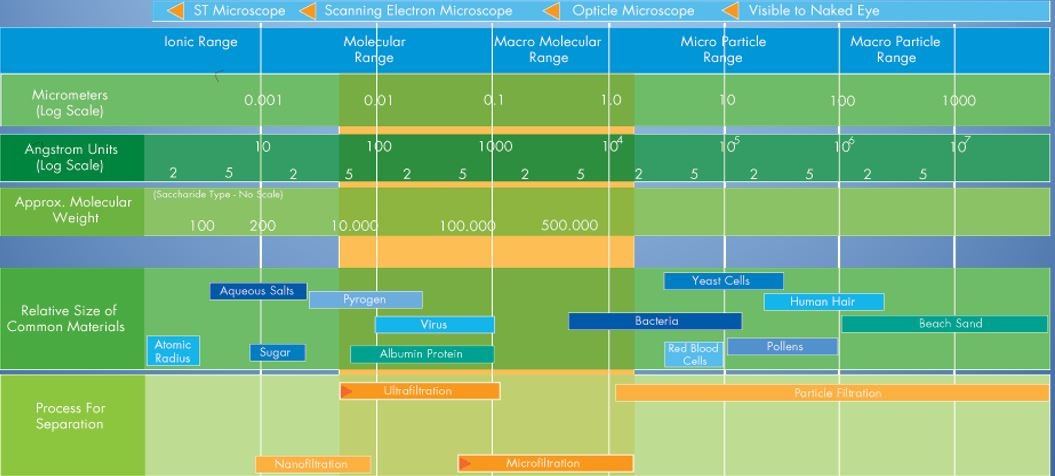 Which is the Best Water Filter?
When researching the type of water filter that would best suit your needs, you will, at some stage, compare the best water filters.
This does not need to be a complicated task. On the contrary, keep it simple. Look at the situation why you need the best water filter. Whether it be for travel, disaster preparedness, hiking, camping, Aid, survivalist, to eliminate bottled water, chronically ill (the list is long) – you need to make a checklist and prioritize it for the situation.
The areas to look at (there will be different emphasis depending on the use) – safe for all to use, chemical-free, long shelf life, free of spare parts, robust, gives instant access to drinking water, lite weight, easy to use, and carry, the flow stops when at the limit of filtration, performance, compare product guarantees. 
Truly know what you are purchasing – compare the best water filters.
It's Vital to Know Which Water Filters Are the Safest
In testing carried out across a range of portable water treatment options, 11 methods of drinking water filtration were tested.
The least effective drinking water filtration was through granulated activated carbon and ozonation. Best performing were solid carbon block filters, membrane water filtration, and plain boiled water, while options such as chemical disinfection, ultraviolet treatment, reverse osmosis, distillation, and bottled water were mid-range.
Comparative Rating of Filtration, purification, and Technologies
The below table provides some guidelines on how effective the technologies are for a portable device when traveling, camping, or required in a disaster or emergency. This assessment takes into the following parameters;
Chemical
Speed of access to water
Portability
Ease of use
Bacteria removal
Cysts removal
Virus remove
Filtration Purification Method
Performance (1-5)
5 being the best
Granulated Activated Carbon
Water passes over the carbon with a slightly electro-positive charge

The heating of water to its vapor point

Super oxygenation of water

A separation process using a semi-permeable membrane

A filter containing a cartridge filled with zinc and copper to create electrolysis

The use of the light process to filter the water

Solid Carbon Block Filters
Combined Carbon Absorption

Hollow fiber filters – Portable and commercial water filtration devices

Hollow fiber filters – Portable and commercial water filtration devices

The use of chlorine or iodine tablets

Boiling of water in a pot to 100 deg C (except high altitudes)

Of the top performers, Sure Aqua products water filters are the safest, most effective option.
You see, most portable water filtration systems use chemicals to purify drinking water. Iodine is one of the main filtration mediums used. However, there are serious reasons for either not using iodine filters at all or just short term.
Children and pregnant or nursing women, those with thyroid disorders or immune deficiencies are recommended not to use iodine-based filters, and no one should use them long-term. The carbon water filtration option cannot filter certain bacteria such as e-coli and pseudomonas, and environmental care must be taken in disposing of both options while boiling water the required length of time is just plain inconvenient in most circumstances.
Sure Aqua products has been independently tested effective in removing essentially all bacteria including cryptosporidium, and giardia.
For personal portable water filters that are kind on the environment, your health, and your budget, the Sure Aqua products drinking water filtration system comes in the clear winners