Why Do You Need A Camping Water Filter For Your Trip? Let's Find Out
I am back to tell you about the Sure Aqua camping water filter. If you are ever planning on going camping, you had better pay attention. Camping is thirsty work, and it requires you to get a few things ready ahead of time. For example, do you have your survival gear ready? Do you have a means for emergency water purification?
I'll ask again… have you thought about water?
If you intend to camp for one to two weeks or so, can you possibly carry enough water, food, and other supplies to see you through the entire time? It's next to impossible! I will tell you what you need to do—carry enough water just for one day. Bring just enough for day one of camping and carry a camping water filter to purify your own water! Yes, order your own portable water pump today. It's readily available.
It's better to err on the side of caution when drinking water. Camping can be very dehydrating! Thirst is worse than hunger because it will kill you faster. Therefore, you will be tempted to carry gallons and gallons of water in your camping gear. But you will need some space for dry food and your emergency kit.
How much water is enough?
When you think about having enough drinking water, you know that you can never be too cautious.  It is better to err on the side of caution! You do not want your camping trip to be cut short before it has even started, do you? Bali Belly, Montezuma's Revenge, and many other afflictions that affect travelers are always lurking nearby to make you cut your vacation short. However, this time around I will show you how to kick all of them in the rear to ensure you have an illness-free vacation. It is easy! Just order your SureAqua camping water filter today, and you will be set for a long time.
"We go camping every year, but last year our son Drake contracted traveler's diarrhea in Colorado. This time, we were taking no chances. We carried our own water filter bottles."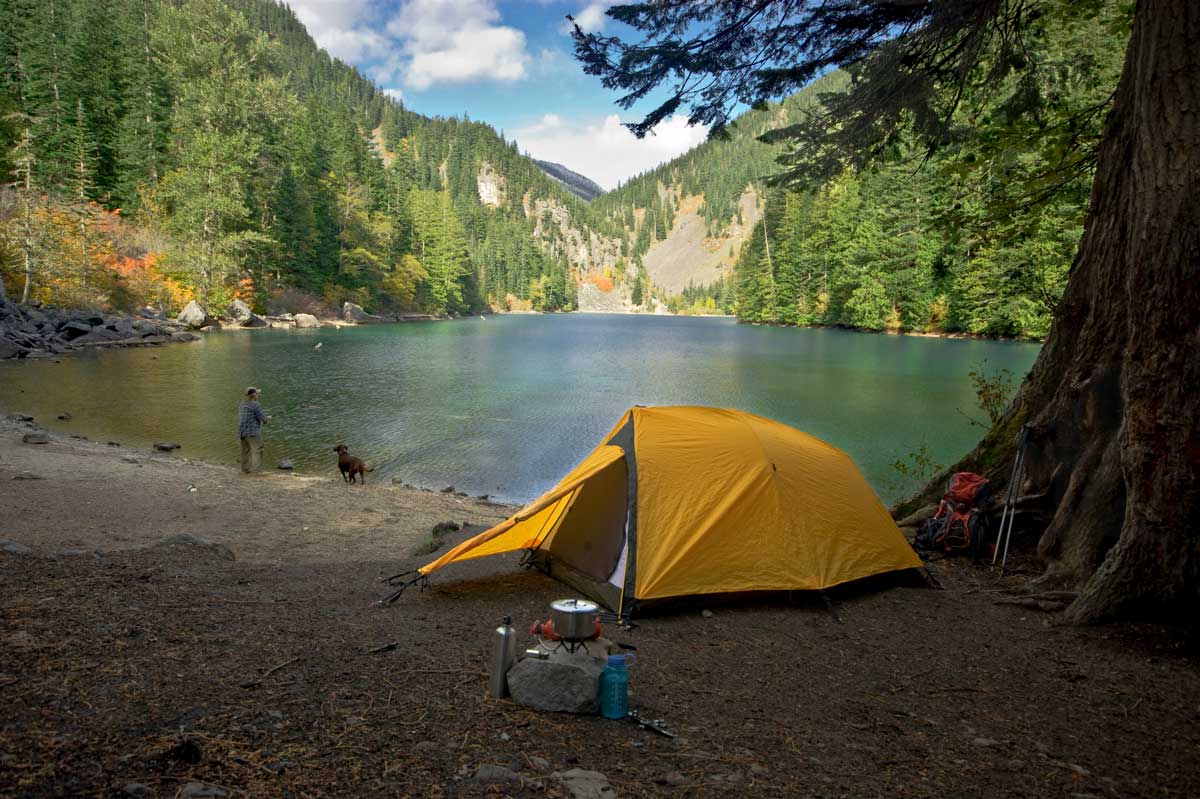 Why do you need a portable water pump?   There are many reasons, but I will remind you of just a few of the most important ones:
Have fresh, odorless, chemical-free, and clean water for drinking any time you need it, anywhere you may be.
Serve as many people as you have in your troop with clean and healthy drinking water.
Use state-of-the-art, tested, tried, proven, and patented three-stage filtration technology to enjoy the cleanest, safest drinking water in the world.
Avoid traveler's diarrhea­—you know, conditions like Montezuma's revenge and Bali Belly where your stomach runs so much it leaves you dehydrated in a matter of hours.
Enjoy every single day of your vacation. No sick days at all.
Use your camping water filter as many times as you like. This device is manufactured with a lifespan of up to, if not more than, 10 years.
Filtering the water, you drink with your own portable water pump is like cooking healthy food. You eat with confidence because you know what went into the pot. When you filter your own water, you drink it with confidence because you know it is clean.
Water Cleaning Technology
3-stage filtration technology The Sure Aqua portable filter comes in a very practical yet simplistic design. Now, simplicity is something that everyone needs when they are on a camping trip. With this filter, you just need to pour in water, filter it and drink it. No big deal, right? Yes, it is a big deal because, by the time you drink your water purified with the portable water pump, it will:
Be free of unpleasant odors – all drinking water should be odorless unless it has been flavored.
Be chemical-free because this filter takes away all the chemicals that might be present in the water.
Be free of heavy metals, which have long-term health effects. The so-lauded spring water sold in stores could still have these impurities. How do you know it is appropriately filtered? Filter your own water!
Be free of bacteria and viruses—yes, even viruses. This filter does not spare even the most minute viruses.
What will you enjoy most about the camping water filter? 
You mean apart from the fact that this camping water filter from the Sure Aqua Company has a spill-free mouthpiece? There many more benefits to look forward to:
It is reliable – who can complain about a portable camping water filter that could be used reliably for up to 10 years
It is simple to use – just pour water into the filter, and well … the portable water filter does the rest.
It will purify water of all impurities, meeting international standards.
It is light in weight. You can carry it around quickly, and—most importantly—it is made of BPA-free plastic, meaning that as you drink clean, healthy water, you also do Mother Nature one good turn.
It is affordable. You will be amazed at the amount of money you will save—money you would have used to buy store water with questionable purity.
Quick tip for drinking healthy: always drink filtered water.
So how does the camping water filter work? 
This portable water pump employs hollow fiber UF membrane filtration technology and an antibacterial activated carbon filter. No bacteria, impurity, or virus will pass through the filter. The activated carbon will bond to chemicals, odors, and heavy metals to not flow out. By the time your water is ready for drinking, you can be sure that it is 99.99% pure of bacteria and viruses. This should more than satisfy everyone's expectations!
Although the camping water filter can filter water from any source, you should filter water from running sources like brooks, springs, streams, etc. You see, still, water could harbor many impurities. There is something so refreshing and appealing about drinking water from a running source. 
But backcountry water is always fresh – Do I need this filter too?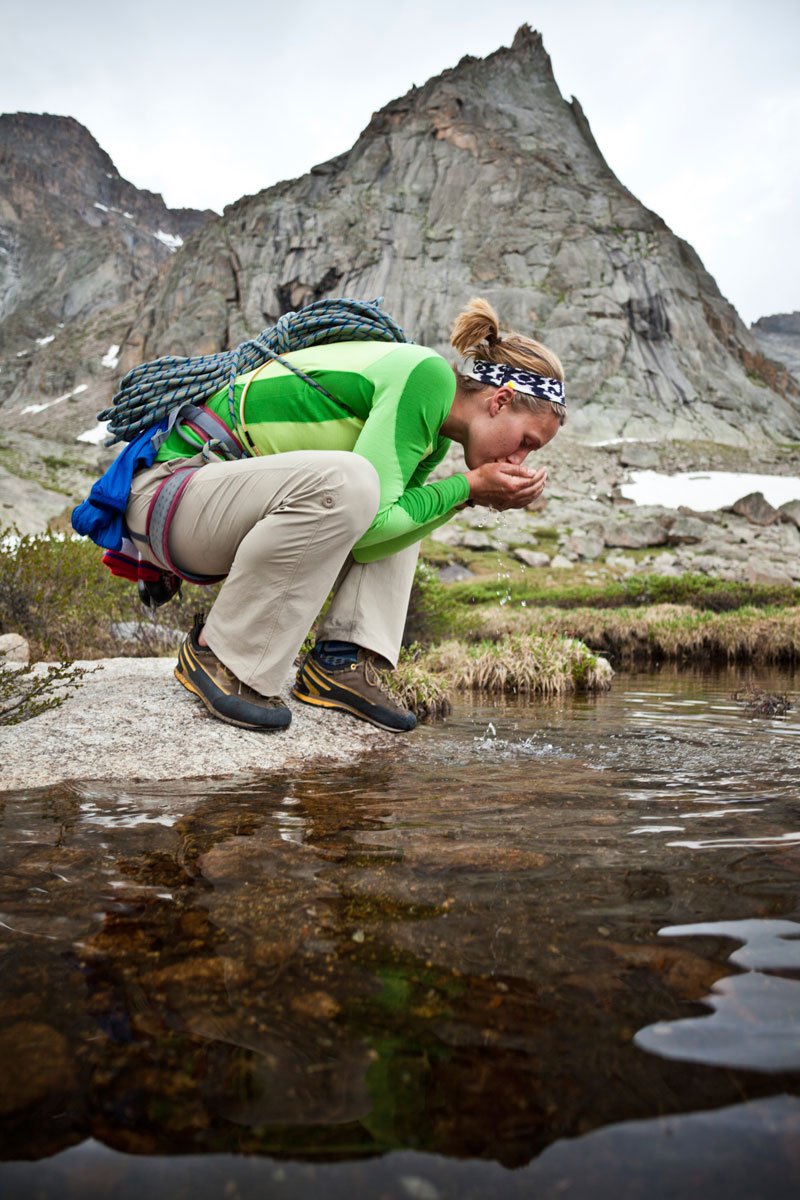 Of course, you need this camping water filter, and very much so. Just think of the 1001 sources of contaminants out there in the jungle. For example, foxes, wild dogs, coyotes, and other animals drink from the same source, and, as you very well know, they are not very particular about their hygiene.
Water from an open-source could be contaminated by birds' droppings and waste from other animals. Even human beings are likely to pass many contaminants to the water. This includes protozoa like cryptosporidium, bacteria like Campylobacter (which is smaller than 0.2 micron), and viruses that are smaller than 0.002 microns. Thus, you not only need to filter the water with the portable water pump before drinking, but also you will need one of the best water filters on the market. Be safe from E.coli.
From the list of these contaminants, not to mention the particulates, you can see that most of them will not be killed by boiling water because they have evolved over time and have adapted to the most extreme temperatures, be it heat or cold. You need modern filtration technology designed to deal with these nasty, minuscule killers. It does not get better than a portable water filter from Sure Aqua.
Once you get started using this camping water filter, you will never again want to drink unfiltered water outside your home. Even if you do not trust your tap water at home, filter it too!
Order you're Sure Aqua pure water filter bottle online today.
"Took the Sure Aqua pump on a Scout Hike with 15 boys and girls. It was so good not to carry so much water. The scouts are only allowed to carry 20% of their body weight..Not much! It was great, so the kids were able to carry food and tents rather than lbs of water."
As you pack your disaster kit …
As you prepare for that long-awaited and yearned camping trip in another country, you want to make sure that everything in your survival kit is intact. You have heard about volcanoes erupting in Italy, deadly earthquakes in Nepal, tsunami, and many other natural disasters.
You will pack dry food, medicine, bandages, a flashlight, matches, canned foods, and so on … but you know what is even more important? Water!
Unfortunately, it is so bulky that you can only carry a bottle or so. With your Sure Aqua camping water filter, all your water worries will be forgotten. 
Conclusion
Order your camping water filter TODAY. Do not leave for that camping trip without it, or you may just give the protozoa, bacteria, and viruses in the foreign country a reason to celebrate.
Enjoy your vacation, and remember to drink purified water only.