Portable Water Filtration Perfect for Camping
When you're camping or hiking, you don't want to load yourself down. After all, you're getting away from it all, not taking it all with you. You want compact camping equipment and ultralight hiking gear, but you also need to carry health and safety gear, including a camping water filter that is light, compact, and reliable.
Around the world, there are so many pristine locations to establish camp and to hike in breathtaking beauty. The forests of Germany, the Italian Alps, the Canadian Rockies, New Zealand's Milford Track, The Pyrenees in southern France, a quiet burn in the Scottish highlands, an established tent village in Kenya, the heritage-listed Daintree, Australia – and the list goes on.
Wherever you overnight under canvas, there's one common worldwide threat. Waterborne bacteria are potentially present in every water source, including municipal tap water. Parasitic cysts for Giardia and Cryptosporidium may also be in water sources worldwide, with Cryptosporidium, in particular, posing a critical short or long-term health risk.
Did you know?  95% of all water ways contain sickening bacteria!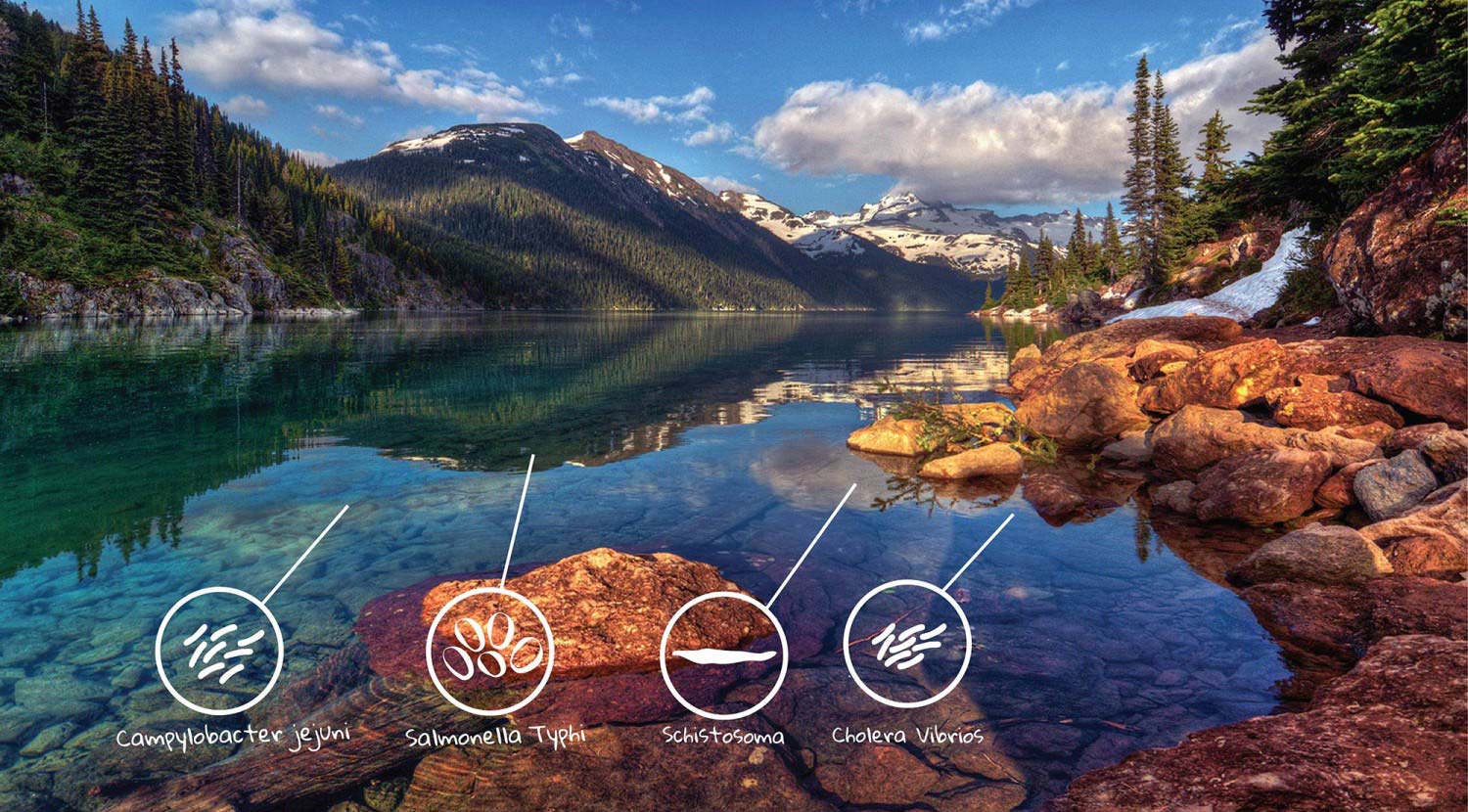 Hiking Water Purification Was Never This Easy
There is no longer a need to boil and store up camping water. There is no need to cart gallons of clean drinking water to the campsite when there is a close-by water source. Your worries of drinking water contaminated water from crystal clear stream that actually is heavily contaminated water with bacterial, parasitic and cysts.
With Sure Aqua, products you can drink from local water supplies, lake water, spring water, and other water sources with confidence. It's an ideal purification treatment for counteracting the threat of 'Beaver Fever,' also known as Giardiasis, so named because of the gastrointestinal sickness resulting from ingesting the Giardia cysts that inhabit water sources downstream from beaver dams.
Turn bacteria-contaminated water into clean water simply by sipping through the best portable and or pocket-sized,  ultra-light camping filter on the market, and the kids will think it's fun – so no nagging needed. The Sure Aqua products are ingeniously designed to trap dangerous substances by filtering water through a 0.2-micron filtration membrane. As in Sure Aqua products OR 0.01 micron as in Sure Aqua products+ and Sure Aqua Bottle. With proper use, it will filter up to 500 liters (132 gallons) OR 1000 liters (264 gallons) depending on the product selected, ensuring you have clean camping and hiking water to drink.
Did you know nearly 20% of your body mass is Carbon!


Camping Water Filters are essential for health
Camping and hiking are great for your heart and well-being. Sure Aqua products are an essential complement for your healthy lifestyle and maintaining your health and well-being.
Our chemical-free, water purifying products will fit perfectly in your camping kit, hiking gear, or just slip it in your pocket to go. Every member of your family can have their own personal portable water filter– including your kids so they can be even more independent.